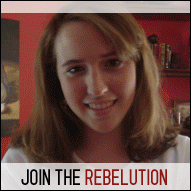 Young men and women, are you ready to be part of a Godly uprising in this generation? Are you ready to be part of
The

Rebelution
, a new movement of young people "rebelling against the low expectations of an ungodly culture"?
I first heard about the
Rebelution
more than a year ago. In the October of 2005, our family attended the 2
nd
Annual
San Antonio Christian Film Festival
as part of a trip to Texas. Arriving in San Antonio before the festival started, we went to the Alamo, to learn some history and stretch our legs. Dodging rain showers, we walked through the buildings, reading and listening to the various displays. To our surprise, we saw two fellow Alabamians there, Alabama Justice Tom Parker and his wife. We greeted them, and learned that they were there for the Christian Film Festival as well! Justice Parker also told us that with them were the twin brothers of Joshua Harris! He also mentioned that the twins had a blog, called "
The

Rebelution
."
"The

Rebelution

?"
It sounded like a strange word to me, and I wasn't sure what exactly it was. However, to think that it was run by the twin brothers of
the
Joshua Harris - that was something exciting! I had read Josh Harris' wonderful book
I Kissed Dating Goodbye
when I was around 13, and had read it a few more times since then! We were also familiar with Greg Harris, who had in fact spoken at the Montgomery
Homeschool
Convention in 2004. I was interested in finding out what these twins were up to!
Our family enjoyed the rest of the time at the film festival, and saw many great films. My mom met both of the Harris twins and introduced me to one of them, though I don't know which one. At that point, they looked the same to me! =)
After finishing up our trip in Texas, we went back home and settled into the normal routine of life. Elijah, meanwhile, searched for the
Rebelution
online, and came upon the blog. After he'd read it for a while, he sent the link to mom and, so that we, too, could check it out.
When I first got on, I was absolutely amazed. I had recently started a blog on my
personal website
, which was mainly my online journal to keep in touch with friends and family. I had no idea a
blog
could be used this powerfully! I spent a lot of time that evening reading through the blog, and had to get on a few other times that week, as I read through the entire blog. I was astounded. For years, I was "different" than almost everyone I knew.
Homeschooled
my entire life and from a conservative family, I had almost always been the odd-ball among my friends. I was a part of a youth group for about a year, until my parents started up a home church with another family. Now we were even more
different
! Our home church grew some, and I became friends with other girls like me. We were happy to be separate from the world in many ways; after all, I helped with chores in the family, and did many things people thought far above my age! Yet, often I felt as though, since in my mind I was "better" than all those other teens, I was somehow okay. I was content with being just a little above "normal". After all, you could only expect so much out of a teenager, right?
As I read through the
Rebelution's
blog (the 4 months they had written so far), I began to have hope that just perhaps, things could get better.
"Wow!"
I remember thinking,
"There really are other teens out there like us. Furthermore, they're even out to really impact the culture, not merely get by."
It was wonderful to read things I had thought and believed, but had never actually put into words. I was challenged to not be afraid to be different. I was challenged to actually
try
to be different - to be
far
above "normal".
In November 0f 2005, we had a chance to hear Alex and Brett Harris speak. Although from Oregon, they were in Alabama for a few months as interns of Justice Tom Parker. It was a last minute thing; we went to hear the Harts sing in the
homeschool
choir, and were reacquainted with the Davies, whom we'd met at, yes, the
San Antonio Christian Film Festival
. (
Colton
Davie was the writer/director of the award-winning film,
Bluestate

: Tolerance for All
.) Somehow, the conversation turned to the the Harris twins, and the Davies invited us to come hear the twins speak that night at their church's youth group meeting. Having enjoyed their blog, we decided to go. I sat spellbound as they talked about the
Myth of Adolescence
and learning to
Do Hard Things
! They were a dynamic duo; they were passionate about what they said; they really lived out what they believed. I had
read
most of what they said already on their blog, but somehow
hearing
it really helped it sink in. I left more fired up than ever about being
Rebelutionary
!
It's not enough to be just above par, abnormal, or better than the "average teen". We are called to
live lives of example
to those around us. 1 Timothy 4:12, the
Rebelution's
theme verse says, "Don't let anyone look down on you because you are young, but set an example for the believers in speech, in life, in love, in faith, and in purity." We need to not buy into the lie that somehow, because we are teenagers, not much is required of us. Yet, it's now
expected
for us to be rebellious, lazy, and undisciplined. "Oh, they're
teenagers
!" is the excuse given, as if just because we're between the ages of 12 and 20, we're somehow something to be indulged and avoided. No! We're told to "Flee the evil desires of
youth
, and pursue righteousness, faith, love and peace along with those who call on the Lord out of a pure heart." (2 Timothy 2:22)
As the twins
write
, this "adolescence" period was something recently invented. In centuries past, teenagers were given responsibilities and expected to behave as adults. So why did this change?
People stopped expecting great things from their youth. Laws were passed so that one did not complete their education until around the age of 18. Now, it's expected that without four additional years of college, we're somehow not ready to face the world. However, not that long ago, youths finished school and sometimes even college while in their early teens. What's more, it wasn't really even a rare occurrence.
But now, "Let the teens have fun while they're young!" is the resounding cry. Instead of helping out in the family, most teens are caught up in their own world. In a whirlwind of school, youth functions, hanging out with friends, and just messing around, they don't have time for much else. They'll grow up, get responsible, and start doing things for God
later
. Right now they just want to have fun! You can still
have fun doing hard things
, but you don't want to
ruin your life with fun
.
In this dark culture, where it may seem that you're the only one who even tries to be responsible, there's a glimmer of hope. Now it's not just Alex and Brett; thousands of other teens have
joined the

Rebelution
. "But wait," you may be protesting, "it all sounds well and good, but come on! Is there anyone that really lives and believes this way?" I've had the pleasure of meeting Alex and Brett on a few different occasions while they were in Alabama, and I can say for certain that they're real, truly living out what they write. On the
Rebelution
, especially through the
forums
, you'll "meet" many teens sold out to making a difference and rising above the low expectations of the world. They're out there. You may not know any; you may be the first in your area to start living this way, but you're not alone. The
Rebelution
has now even
spread around the world
!
Are you still not convinced that you can really make a difference while you're young? Do you think no one will listen to you? Jeremiah felt the same way. God called him to be a prophet while he was yet a youth, but Jeremiah was scared. " 'Ah, Sovereign LORD' I said, 'I do not know how to speak; I am only a child. " (Jeremiah 1:6) That wasn't any excuse to God, however. Jeremiah 1:7-8 goes on to say,"But the LORD said to me, 'Do not say, "I am only a child." You must go to everyone I send you to and say whatever I command you. Do not be afraid of them, for I am with you and will rescue you,' declares the LORD." God promises to be with us. Without Him, we can't even begin to do great things. In our own strength, we can accomplish nothing worthwhile. However, He will give us the strength to do hard things. Jeremiah wasn't the only one called by God while they were young. David, the man after God's own heart, was anointed king, and slew Goliath, the great Philistine everyone was afraid of, while he was only a teenager. We don't know exactly how old Mary the mother of Jesus was when God came to her, but she was most likely around 14-16. Yet, she found favor with God, and the Father chose her to bear His Son. With God,
anything
is possible.
Purpose to make a difference. It won't be easy, but seek to
Do Hard Things
! It works in a variety of ways.
Everyone's
"hard things" will be a little different. But unite together; join the
Rebelution
, and truly begin living your life for God, even while young. Some may think you're strange, but more will admire you for your commitment. It's a growing process; it won't happen overnight. Remember Mary and David from the Bible? Before they were chosen by God, they made little choices over and over to be diligent and responsible. David was a shepherd, and cared well for his father's sheep. In time, he grew to be shepherd over Israel. Mary most likely spent her time helping her mother, and being diligent in the small things. She found favor with God, and was chosen to bear His son. By choosing to be faithful in the small things, God will put you in charge of larger things. (Luke 16:10)
Pursue excellence, and be
Rebelutionary
!